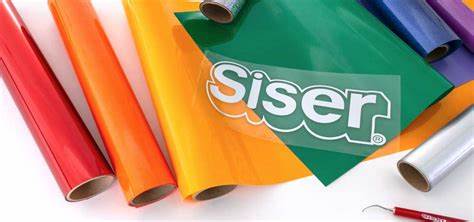 Heat Transfer Vinyl (HTV)
Apply the Designs You Make – to the Garments you Want!
Heat transfer vinyl (HTV) is the answer to your personalizing projects! Of all the garment decorating methods available, heat transfer vinyl is one of the least expensive and easiest to get involved in. HTV is either a polyurethane (PU) or poly vinyl chloride (PVC) material that comes on a clear carrier sheet. Designs are cut from the material while leaving the carrier intact for application. Siser heat transfer vinyl is available in a wide selection of colors and finishes such as glitter, flock, glow in the dark, and even patterns! There are several methods to cut HTV, such as desktop cutters like the Silhouette Cameo & Cricut, higher volume cutters such as the Roland GX-24 & Graphtec Expert, and the low-tech approach of cutting by hand with an X-Acto knife or paper punches! Once your design is cut, the excess material that isn't part of the design is removed or "weeded" away. Weeding is the process of taking a tool and pulling the excess material away from the carrier. When your design is cut and weeded, you can heat apply it to a variety of fabrics using a heat press or household iron on the correct fabric setting for a look that's one of a kind every time! Heat transfer vinyl is so durable that, when applied properly, will outlast the shirt's fabric.
Almost all of Siser's heat transfer vinyl materials are CPSIA Certified so they can be used to safely decorate children's clothing.